Windows XP can be a great Operating environment. It is easy to navigate, use, and understand. However, Windows can quickly turn into a nightmare if not properly maintained and cared for. The use of good Antivirus software is crucial to keeping Windows up and running smoothly. But just as important and probably the most overlooked, is the process of keeping Windows up to date by taking advantage of Windows updates.
Windows updates provide the latest service packs, fixes, and even some drivers for your Operating environment. These updates are generally released to accommodate new software and hardware developments, repair previously documented security flaws and reduce hardware load by making more efficient use of programs and applications. Ultimately this can improve the end users experience with Windows.
The process of keeping your Windows XP PC updated is relatively straight forward and simple.
Starting the Windows Update process:
Preferred Method
Click Start-> Programs-> Windows Update and "follow the on screen instructions"
Use the Express method first to get the high priority updates.
Optionally, feel free to return to Windows Update and use the Custom method to install any additional optional updates. ( I prefer to use the Custom Method)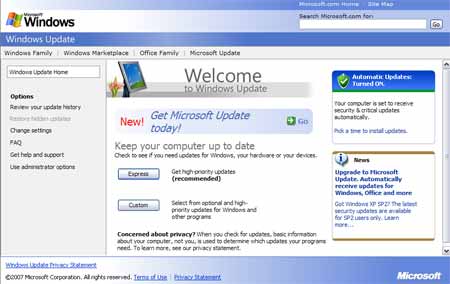 Alternate Method (if your using internet explorer 5 or later)
You can access Windows Update directly by clicking HERE and then following steps 2 and 3 from above