How to Get RAM Window Sticker from a VIN number; There are several cases in which you might need to lookup the Window Sticker for your Dodge, RAM, or JEEP. Perhaps you lost your original Window Sticker. Maybe you're looking to buy a used vehicle and want to see all of the options the car, truck, or suv came with from the factory. Or it could be that you just need to see the original MSRP of the vehicle.

Fortunately, FCA has made it possible to reproduce this sticker by using just the (VIN) Vehicle Identification Number.
How do I get a RAM Window Sticker by VIN?
Below, I have put together a simple search query you can use to easily submit a VIN and retrieve the Factory Original Sticker. This query will also work for other FCA makes/models, I.E. Jeep, Dodge, etc. Though, I have put together dedicated VIN decoders for those as well.
RAM VIN to Window Sticker Decoder
To use this tool, simply perform the following steps;
Copy and paste your VIN number into the search box below.
Then press the "Get RAM Window Sticker" button.
If all went well, you should end up on a page with a Window Sticker produced from the decoded VIN number you entered above, as seen in the example below. You are also able to print a RAM Window Sticker or download it as a PDF file, from the same page.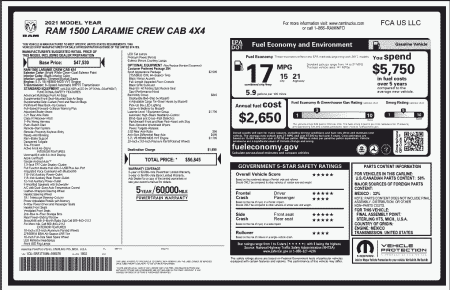 How do I get my RAM Build Sheet?
Here's how you can get a factory build sheet for your RAM;
Insert the (VIN) Vehicle Identification Number.
Press Enter or Get a Build Sheet button.
RAM VIN Lookup to Build Sheet Decoder
You should end up with the "Factory Build Sheet for your RAM", listing all of the options it came with from the factory when it was originally built. Installed features will be broken down into two sections and the list will be several pages long. See the 2022 Ram 1500 Sport build sheet example below.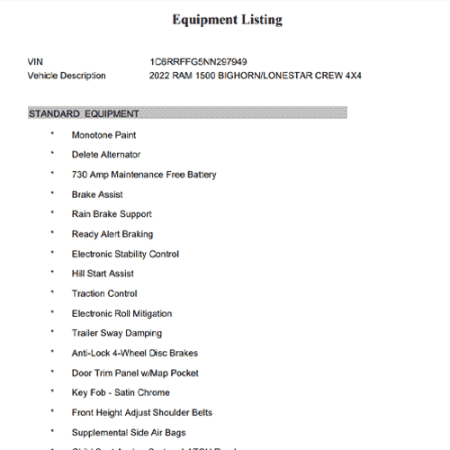 Hopefully you found this Ram VIN decoder Build Sheet and Original Factory RAM Window Sticker Lookup tool handy! If so, please feel free to share this link with others.
Note: Here is another VIN decoder that can be used to get a JEEP Factory Window Sticker.