My Michelin Pro 3 Race Tire Review: During late Spring or early Summer in 2011, I switched from using Bontrager R3 700x23c tires to these "Michelin Pro 3 Race service course 700x23c" road tires on my Trek Madone 5.2 Road Bicycle. After having put about 800 miles on them, I feel qualified to say that I have a good feel for what they are and what they are not.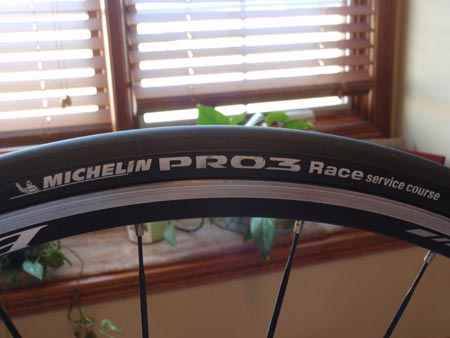 Michelin Pro 3 Race Tire - First Impression
I paid $110 for the pair, which is comparable to most any other set of quality 700x23c road race tires. These are folding tires, and the first thing I noticed, is that the Pro 3 are light tires, the mid section (tread) feels soft, pliable and thick. However, the sidewalls feel really thin. They fit more snug than the previous Bontrager R3 I was accustomed to. In fact, they were pretty tough to mount on the rim, right out of the package.
Michelin Pro3 Race Tire - Road Feel and Durability
Pro's - Comfortable, super soft ride, smooth rolling, quiet, lightweight, fast.
Con's - Slightly slower than Bontrager R3, soft rubber picks up road debris, prone to pinch flatting and cuts.
Once mounted on my Bontrager Raclite rims, and filled to max pressure, I headed out for my first ride. Initially, I kept thinking that the tires were low on air. The ride was just so much softer. The tires were absorbing just about every road imperfection, yet they felt pretty fast. On the second ride, I decided to up the air pressure just a tad beyond the maximum, since I am a heavy rider (185lbs). At about 122psi these tires felt pretty good for me. Still a little softer than I was used to, but after a few more rides, I had become used to the feel. These tires do ride smooth and quiet.
Several rides later, my data tracking methods had shown the tires were performing well. But performance was not quite as good as my Bontrager R3. My average speeds on the same daily route were about .3 - .5 mph slower. At first I thought it was just me, and that maybe the warmer temps were getting to me, cutting into my overall performance. However, I have recently switched back to the Bontrager R3. My data tracking methods are proving that the Michelin Pro 3 are indeed slower for me.
I also started to notice that the Michelin Pro 3 easily attract road debris, maybe due to the softer rubber compound? Within the first few hundred miles, I had all kinds of nicks and cuts throughout the tread. I only ride on clean paved roads, shoulders, and trails and try to avoid debris I see in the road. By 780 miles, due to excessive cuts and abrasions, these tires were ready for early retirement, as the tires were rendered unsafe for riding at speed.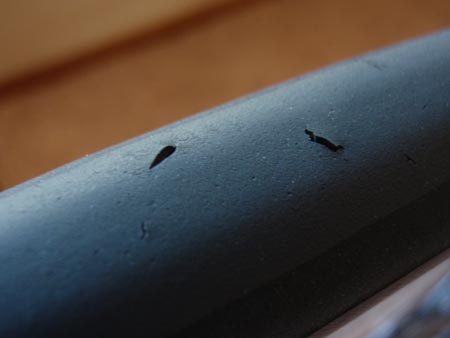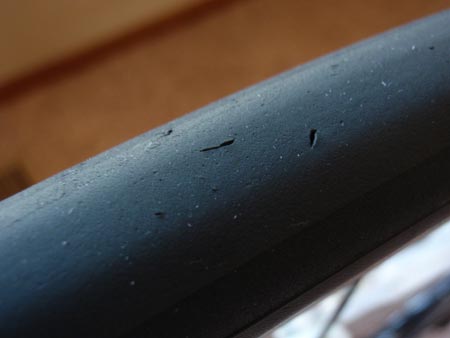 I should also point out that I experienced two pinch flats during the 800 miles I put on these tires. I chalk that up to the tires being less stiff, and the sidewalls flexing more to absorb road imperfections.
Conclusion - The Bottom Line
My experience with the Michelin Pro 3 Race is that the ride was very comfortable, smooth, and quiet. However, if  all out speed is your thing, or if you are a heavier rider (180+ lbs). Then the Bontrager R3 tires might be a better choice for you.