Check a Download for Viruses
How to quickly Check a Download For Viruses and Malware. Often times we download a file from the internet that appears to be suspicious. Today, a majority of people have Anti Virus Software and Anti Malware Solutions installed on their PC. However, recently most Antivirus Software has not been able to keep up with every new Virus in circulation. As a result there can often be a delay in the update and propagation of new virus definitions. Subsequently this can leave the end user up for potential infection. Fortunately there are some free tools we can use to check a file for viruses to ensure they are clean.
To help ensure the files you have downloaded are clean, a good rule of thumb is to use an Online Virus Scanner to check a file against multiple Virus Definition Databases across the leading Antivirus Engines.
Two Recommended Online Virus and Malware Scanners
Check a Download – Virus Total – Free Online Virus Scanner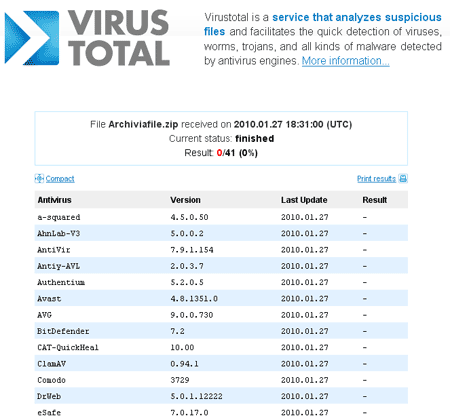 Check a File – Jotti – Free Online Malware Scanner