Beware, email appearing to come from (UPS) or United Parcel Service may be a Trojan. The infected email states that it's coming from "United Parcel Service" or "United Parcel Service of America" and usually starts out stating in the subject line "UPS Delivery Problem". An attachment is shipped (pun intended) with the message and once the attachment is opened, your computer becomes infected with a virus variant of the Win32/Kryptik.ARB trojan.

Infected Email claiming to be from UPS
Note that this email was caught by my Antivirus software before it did damage.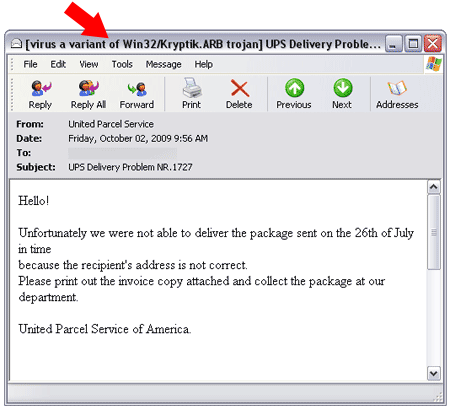 From: United Parcel Service
Subject: UPS Delivery Problem NR.1727
Attachment: File_UPS_N1efac8.zip
Hello!

Unfortunately we were not able to deliver the package sent on the 26th of July in time
because the recipient's address is not correct.
Please print out the invoice copy attached and collect the package at our department.

United Parcel Service of America.
How to avoid being infected
The best advice is to ensure that your Antivirus software is kept up to date (especially prior to performing any activity over the internet) and remember not to open any attachments unless you specifically know the sender is sending them.
How to Remove the UPS Email Trojan if infected
ESET Smart Security caught this Email Trojan before it could do damage. You can get a Free 30 day trial : ESET Smart Security Trial.