WordPress SEO Search Engine Optimization Tips; Search Engine Optimization or SEO works a bit differently for those of us using WordPress blogging software. In this article I will show you a few tips on how to optimize your WordPress Website to obtain a higher PageRank. PageRank is what the Google Search Engine uses to rate your site compared to other sites based on the same content. A higher Page Rank can set your Web page ahead of others in the search results.

Tips for WordPress SEO Search Engine Optimization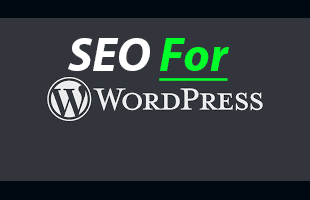 #1 Obtain Quality External and Internal Links
Among many contributing factors, one key element used by search engines to determine how your blog will rank is the presence of quality external links. External links are often referred to as "Backlinks" - or a link that points back to your site. The more quality Backlinks you have, generally the higher your search engine page ranking.
You can also use internal links to increase the ranking of a page and help search engines find and index (spider) your pages quicker. The pages are found and indexed quicker if the link is coming from a page that has already been indexed.
How Important are Title Tags?
The Title Tag is probably the most important html tag in terms of SEO. To make the WordPress title tag work to our advantage we need to use unique Title Tags for each page and post. Titles should also contain the same content, but must slightly differ from the H1 tag for each post or page.
What is the Best Permalink Structure for SEO?
One of the best features of WordPress is the ability to use a Permalink structure as opposed to page id. This allows the blogger to create a Post Slug (post name) that is related to the keywords or key phrase that the blogger is trying to target. Permalinks are not enabled by default. To enable them, log into WordPress, then select Options -> Permalinks from the admin menu. Early on I used the date and named based format /%year%/%monthnum%/%day%/%postname%/structure. However, over time have seen better results by switching to use  /%postname%/ and nothing else.
How should I use Home Page Navigation?
A majority of the SEO "internal link power" will start and stem from the homepage of your blog. This is mainly due to the fact that the homepage is usually the first page that gets indexed by the search engines. Be sure to list your categories and most important article links on the home page.
How important is Speed for SEO?
Ideally, a Webpage should load quickly and be scrollable within a fraction of a second. Beyond that, the first few seconds of a visitors experience on your site are the most crucial. Use Speed Testing tools such as Google's PageSpeed Insights to ensure your site loads quickly. Enable Caching if you need to. Use a CDN like Cloudflare to make your content available closer to your visitors GEO location. Reduce Image file size to be as small as possible, while still keeping your pictures clear and presentable.
What about Site Design and Content Layout?
If your blog is poorly laid out, lacks quality design and is hard to navigate, visitors might quickly leave disappointed and never return. Try to keep your design and layout simple and easy to navigate. As for Content, always place a very good summary of your article toward the top of the page (above the fold). Visitors should not have to scroll to get to understand what your article or post is going to be about. Let them know up front, so they can choose to proceed to read, or not.
How Important is Unique Content for SEO?
Write original content that is in your own words. If you simply copy articles or your blog contains content that isn't in your own words, your site will actually get de-ranked. Originality is just as important on the internet as it is socially in life.
One can either blend in or stand out amongst the rest!
... and with over 600 million blogs available on the internet, I would hope we want to be one that stands out.