Is Blink not sending notifications to your Alexa echo devices? Are your motion detection alerts and doorbell press announcements not working? I recently also encountered this problem after installing an Amazon blink video doorbell in our home.

After the door bell was installed, I added the blink skill to Alexa so that my family could control the blink doorbell from our household echo devices... As well as receive notifications from Alexa, if someone was at the door. With the blink skill added to the first echo device, doorbell press announcements and motion detection worked fine. However, once I added the blink skill to the second echo device in our household, blink doorbell notification announcements stopped working all together. Alexa was no longer sending announcement notifications to any device.
In short, the blink camera was not notifying me or my family through Alexa. We were getting no blink doorbell notifications!
Why was Blink Not Sending Notifications - Blink alerts not working?
As it turns out the second Alexa echo dot is on my wife's Alexa account which is on our family plan. And for some reason syncing a blink smart home skill to multiple accounts appears to create a conflict. Though I had announcements turned on for both devices, they simply would not play. That is, until I performed the following steps which corrected this problem, altogether. To skip to the chase, I disabled the blink smarthome skill from the first Alexa account I added it to. Then re-enabled the skill to relink it to the account.
No Motion Detection with Announcements Active in Settings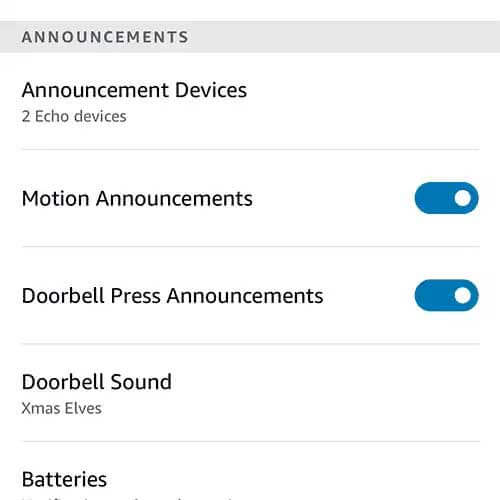 How to Make Blink Doorbell Ring on Alexa Devices
"Make Blink Door Bell Ring Again"
Here is how I finally made blink send doorbell motion and doorbell press announcements to all of our connected Alexa echo devices.
Note: This process assumes that the blink skill has already been added to all of your devices, and that even though it looks like everything is setup correctly, announcements are still not being sent.
First, Login to your Amazon Alexa Account.
1.) Click More from the bottom right corner. 2.) Then click Skills & Games.

1.) Navigate to Your Skills

from the Menu.  2.) Click

Blink SmartHome.

Then, Click Disable Skill.

Proceed to Disable on the following page, and then you'll be sent back to the Blink SmartHome Skill page.
Now select Enable to re-enable.

And Proceed to Link Blink to your original Alexa account, again!

If all went smoothly, instead of blink not sending notifications to Alexa, it should be now be sending doorbell alerts, and your echo devices finally announcing or notifying you and your blink doorbell notifications should be working once again.
Alexa and Blink are products of Amazon