Change Boot Drive Lenovo Yoga. In the following tutorial, I'll show you how to quickly access the Boot Manager to Change the Boot Device on a Lenovo Yoga 710 Laptop. For example, you might want to boot from an external USB drive instead of your local hard drive. Perhaps you wish to boot from a Linux Operating System, System Tools, or Antivirus Software installed on your YUMI Based Multiboot USB? Fortunately selecting a different boot drive on a Lenovo is simple. It does not even require accessing the BIOS or UEFI menu.

How to Select a Boot Device – Lenovo Yoga 710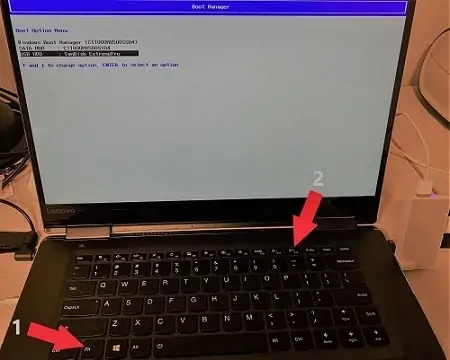 Press and hold the Fn + F12 keys during system startup to access the Boot Manager.
Once the Boot Manager appears, you simply choose which drive to boot by using the PgUp or PgDn arrow keys.
Press the Enter key to boot your selected device.
That's all it takes to Change Boot Drive and begin booting from an external USB drive on a Lenovo Yoga. ;)