Welcome to my DIY Faux Stone Fireplace Makeover, where the bland and ordinary morphs into the extraordinary. Embarking on this creative endeavor, I sought to breathe new life into our living room space, infusing it with the timeless allure of stone but without the mess and timely labor that is typically associated with such a project.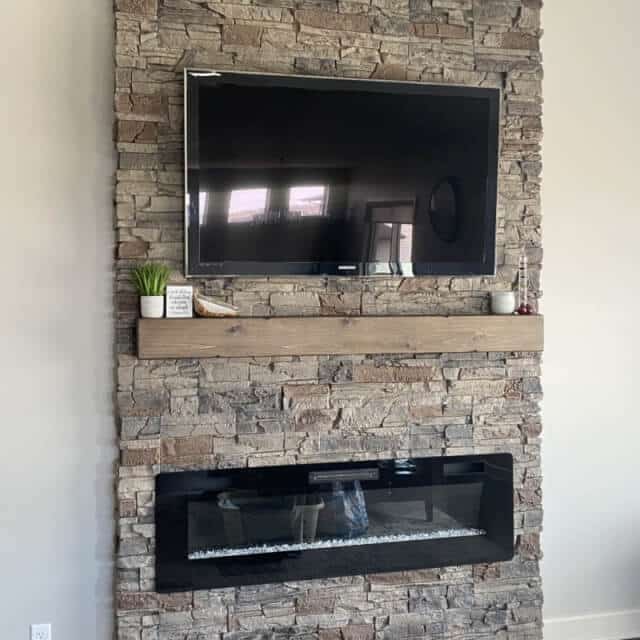 As the flames dance within the hearth, the rustic charm and natural elegance of faux stone now enfold at the heart of our home, leaving behind a trail of awe inspired guests and newfound admiration for the artistry that lies in the mastery of illusion. Join me as I unravel the steps of crafting a faux stone bump out wall with an electric fireplace.
Creating a Bump Out Wall for TV and Fireplace
Before I could begin to make a plan for the bump out wall, I needed to know exactly what size and style of fireplace I was going to use. I already had a TV, so just needed to find an appropriate electric fireplace.
Choosing an Electric Fireplace
My first step was to choose the best electric fireplace for this project. I chose to go with the 60 inch version of the R.W.Flame electric fireplace. It features a depth of less than 4 inches, a flat glass panel that slides on/off making access easy and eliminates the need to create a bezel or trim the fake stone panels that reside behind it to perfection. Out of all of them that I researched, this electric fireplace also had the most realistic flame. The flame color, rock bed color, and brightness are completely touch screen or remote control customizable. It features two heat modes 750W/1500W and has served us well in warming up our living room a few degrees during cold Winter nights.
Planning and Marking the Wall
The next step was to plan the Bump out dimensions and mark their placement on the wall. Here, I chose to center the stack proportional to the furniture in the room.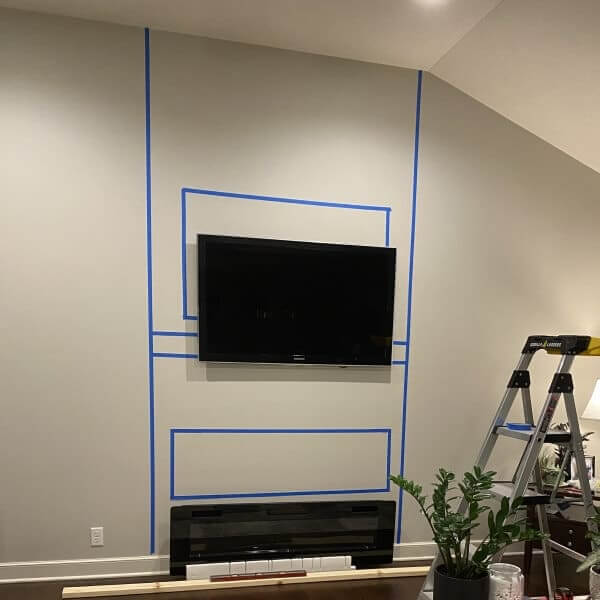 Creating a Bump Out Wall Frame
I then proceeded to create a frame for the Bump Out Wall with TV and electric fireplace. Standard 2x4 lumber was used for the skeleton frame. Two boxes (a lower and an upper) were created using only 2x4x6 and 2x4x4 boards. Doing things in two stages made it really easy for one person (myself) to transport and put up the wall.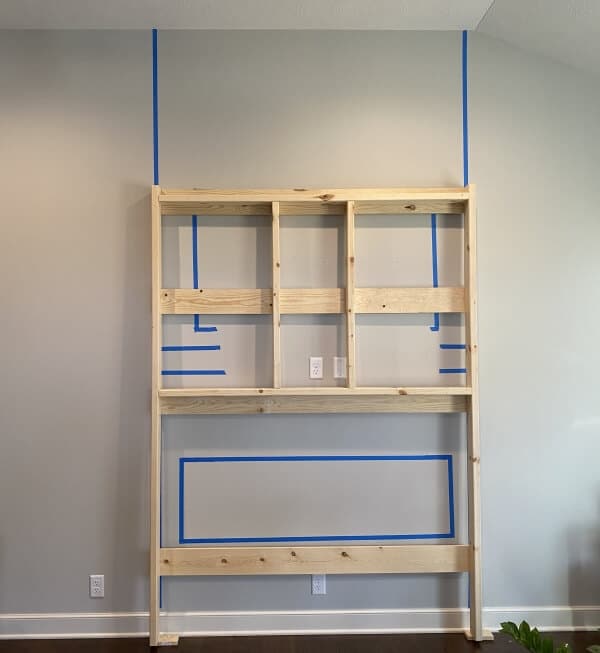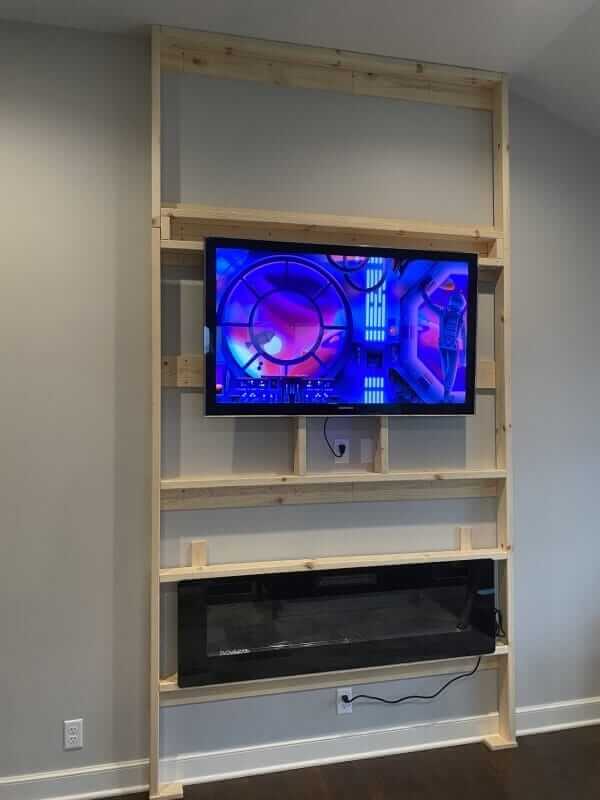 Choosing Faux Stone Fireplace Panels
After spending a week researching various manufacturers of faux stone panels, I settled upon a company known as GenStone. They are a leading manufacturer and distributor of high-quality faux stone and brick veneer panels designed to replicate the appearance of natural stone and brick. As a synthetic alternative to real stone, GenStone's products offer a cost-effective and lightweight solution for various home improvement and commercial projects. These panels are crafted using a proprietary mixture of polymers, creating a durable, weather-resistant, and low-maintenance material suitable for both interior and exterior applications.
GenStone's faux stone veneer panels come in a wide range of styles, colors, and textures, allowing homeowners, builders, and designers to achieve the desired aesthetic without the need for costly and time-consuming traditional masonry work. The panels are easy to install, making them a popular choice for DIY enthusiasts and professionals alike.
I chose to order a few sample faux stone panels in various colors so that my wife and I could make an informed color choice before committing to a larger order. Though GenStone charges for samples up front, they do credit the entire cost back towards your final order. We ultimately chose to go with the Kenai Panel color as it almost perfectly matched the exterior stone or our home.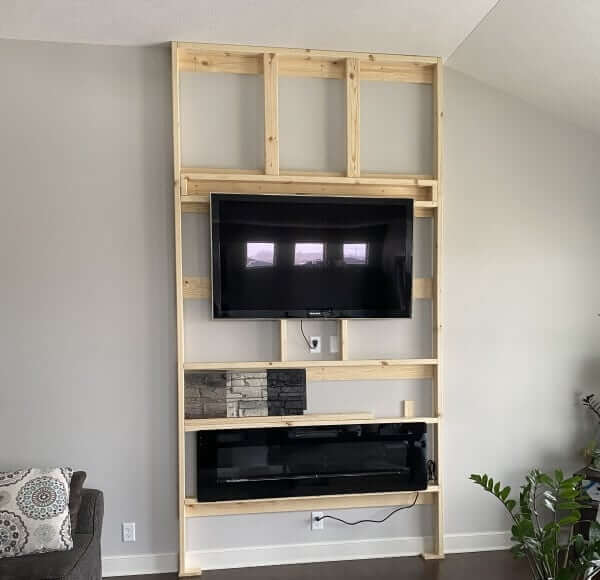 Covering the Bump Out Wall Frame
I wanted this wall to be solid and to be able to screw the GenStone panels in anywhere without worry of them failing to hold. It might be overkill, but I chose to use OSB board sheathing along the entire face of the frame.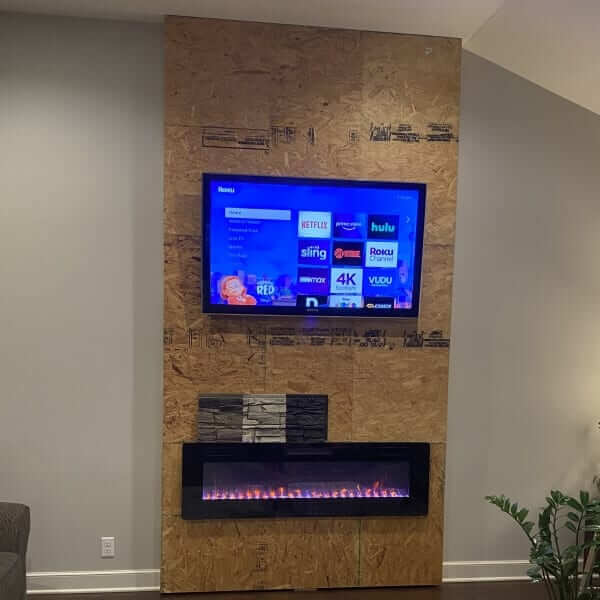 Attaching Faux Stone Panels
Now for the fun part. Placing the GenStone Faux Stone Panels. This part was actually very simple and almost relaxing. The foam-like material can be cut with a handsaw and finished to perfection with a simple set of files. The only thing to be aware of is dust. I did all of the cutting and filing in our garage.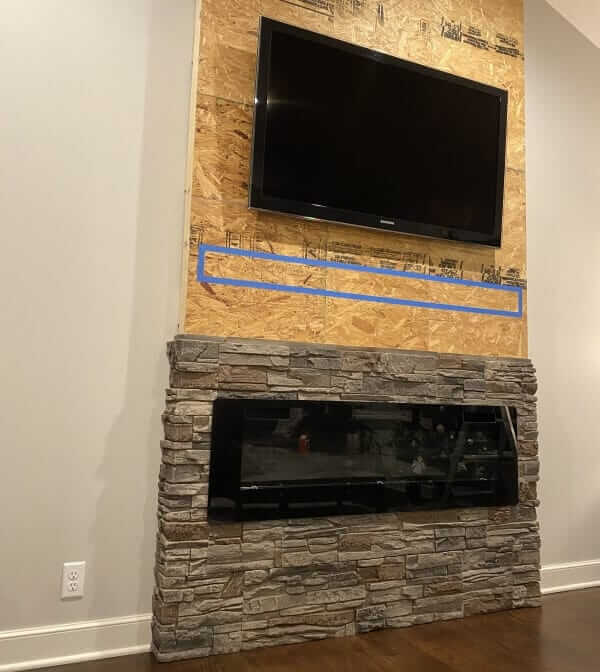 Here the Faux Stone Bump Out Wall is almost all covered.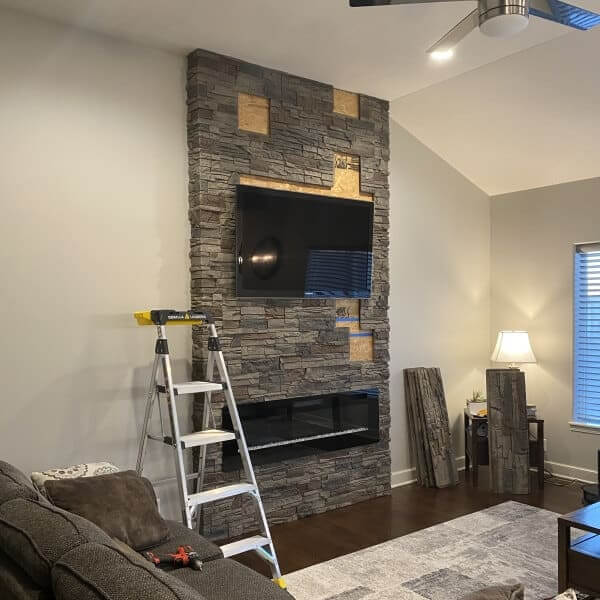 Choosing a Fireplace Mantel
We chose to go with Urbandi for our fireplace mantel. We chose the rustic mantel in Jacobean color. Urbandi offers excellent craftsmanship, and their mantels come with an easy to attach hidden floating fireplace mantel mount.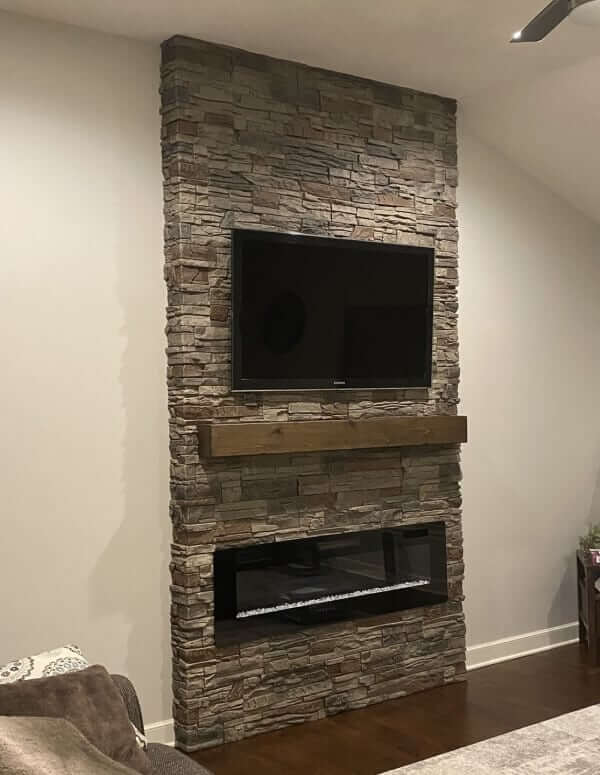 All that was left to do after mantel installation was calk and blend any exposed faux stone panel seams. Then sit back, turn on the fireplace, pick a movie and enjoy!