Many Free Antivirus Software applications and utilities are available for the PC. In the following Anti Virus review, I cover what is, in my opinion a few of the best Free Anti Virus protection options available to help keep your computer safe and hold those viruses at bay. Please note, as with any free Antivirus Solution, there may be some features and options that are not included with a Free Antivirus Edition. For example, one might need to purchase a special copy or subscribe to get advanced features such as live protection, email protection or browser protection.
My Choice of  Top Free Antivirus Software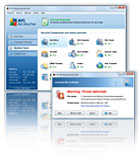 AVG Free - Free Antivirus protection software that is offered by Grisoft. It has quickly become a favorite Free solution for many including myself. Offering real time live protection, a high virus detection rate and daily updates to help keep your system protected, AVG Free works well with Windows XP or VISTA as a basic antivirus tool kit. However, it does not include some essential protection features such as a firewall and anti-spam protection. If you need these features, Zone Alarm Free makes for a nice solution that works well in conjunction with AVG Free. In addition, Grisoft offers free anti-rootkit and anti-spyware software for those who feel they need even more protection.
Avast 4 is Avast's Free Antivirus software. This awesome stand alone anti-virus, anti-spyware, anti-rootkit software suite is only available for non-commercial home use. It supports 64 bit operating systems as well. This tool is one of the most complete free antivirus kits available, with features such as Peer to Peer, Instant Messaging, email, and live web protection. Moreover, Avast includes a feature they call virus chest which is essentially a folder that AVAST places execution restrictions on. The virus chest can be used as a location to house or store questionable files (a holding cell) without fear of its contents running all over your system.
Avira AntiVir Personal - Avira's Free Antivirus software solution. This basic antivirus solution does handle rootkit extraction and offers basic antivirus protection against viruses, trojans and worms. It is available for personal use only, hence the name. This Antivirus software will not protect against spyware or adware and cannot scan email. However, it is not very resource intensive and does run very well on older or slower computers.