Repair Windows Update
In the following simple solution, I'll show you how to attempt to Repair Windows Update or Automatic Updates automatically by using an innovative little tool called "Rizone's Internet Recovery Kit" created by Rizone Technologies. This tool can also be used in an attempt to repair SSL/HTTPS/Cryptography if your having troubles connecting to secured websites. I.E. Bank Account logins, PayPal etc.
Warning: This software is provided 'as-is', without any express or implied warranties whatsoever. In no event will the authors, partners or contributors be held liable for any damages, claims or other liabilities direct or indirect, arising from the use of this software.
Rizone's Internet Recovery Kit
Authors Website: http://www.rizonetech.com/?p=351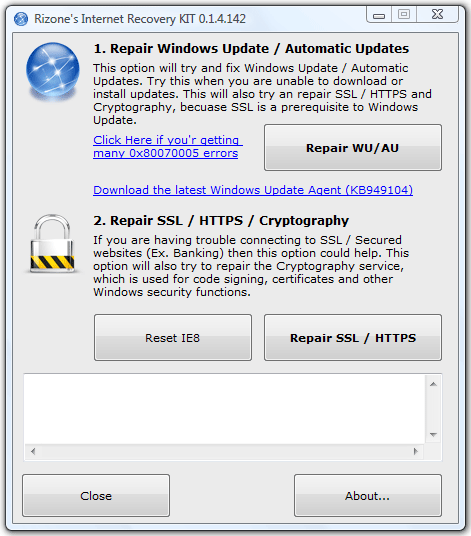 How to Repair Windows Update
Download Rizone's Internet Recovery Kit and extract the contents to your PC
Click IntRec.exe and follow the onscreen instructions