Norton Security Scan was a Free tool created by Symantec, the creators of Norton Anti Virus Software. It was once used to detect if a computer was protected from known threats. The tool could be run to quickly scan a computer for viruses, worms, spyware, adware or trojans. And then further to remove those threats. You can also use it in conjunction with other Antivirus or Antispyware tools. Providing maximal protection against most common threats.
Norton Security Scan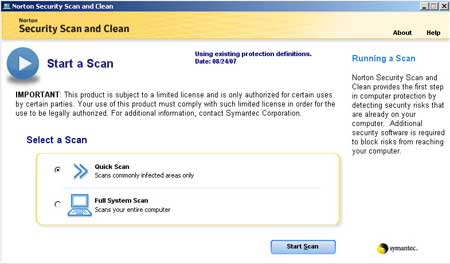 Supported Operating Systems
Microsoft Windows XP
Microsoft Windows Vista
Where to get Norton Security Scan
Previously, user could download Norton Security Scan along with many other free essential tools from Google Pack. However, this pack is no longer offer.
Here is the Archived link to the official Norton Security Scanner.