SeaDoo XP GPS Speedometer aftermarket replacement, swap, or upgrade. The stock top speed of a 1996 SeaDoo XP is between 54-57 mph, according the factory Dream-O-Meter. However, these numbers were often inflated. For example, one could easily manipulate top speed readings by simply turning while at full speed.

This is because older Sea-Doo watercraft used a speed sensor with a paddle wheel assembly to track speed. Not only were these highly inaccurate, they are also prone to failure, hard to find, and the parts are often expensive to replace. If your original Sea Doo XP speedometer is not working, rather than replace it with another expensive factory unit, a SeaDoo XP GPS Speedometer swap may be the better choice.
[lwptoc title="Table of Contents" toggle="0"]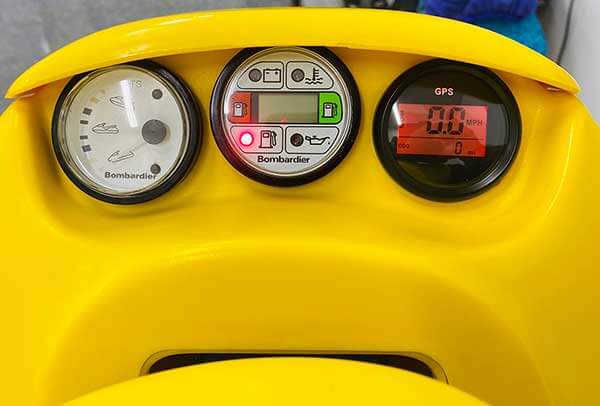 To resolve the issues mentioned above, I have been replacing the factory dial style speedometer gauge with an aftermarket waterproof digital 52mm or 2 inch GPS speedometer. So far the results have been great. In addition to getting a more accurate speed reading, the unit I have been using also keeps track of miles. This can be helpful for logging maintenance intervals. Ok, perhaps not quite as efficient as hour logging, as routine maintenance is usually tracked by hours on a Boat, PWC or Jet Ski... but we will leave that discussion for another segment.
SeaDoo XP GPS Speedometer Upgrade
There are some expensive factory looking dial type GPS speedometer gauges available. Though the digital 52 mm or two inch GPS Speedo I have had great luck with and have been using for a while now, is made by Eling. It comes with a warranty and is readily available on Amazon. It ships directly from an Amazon warehouse. And for those with Amazon Prime, typically arrives within a few days, which is another plus.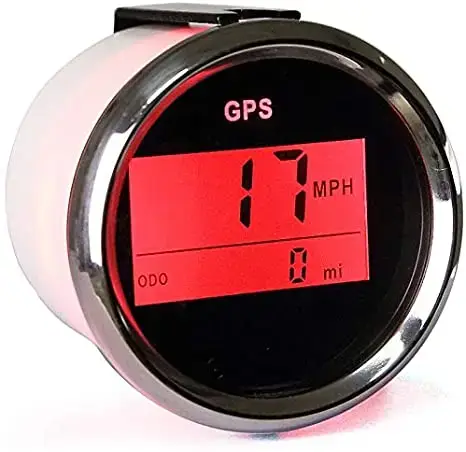 Where to buy a 2 inch Digital GPS Speedometer
You can get a 52 mm 2 inch Digital GPS Speedometer for your Sea-Doo XP, SP, SPX or any model that uses a 2" gauge opening, directly from the Amazon retailer below;
Buy an ELING 2" Digital GPS Speedometer with Backlight
Installation as outlined below is relatively simple once the old gauge is removed. For the 96 Sea Doo XP GPS Speedometer gauge replacement or upgrade, I simply spliced into the + purple and - black wires coming from the original speedometer harness. Purple (to red/orange) and black (to blue). The new unit fits perfectly into the original hole, and the provided back mounting bracket installs easily. For the sensor, I use double sided tape and attach to the inside of the hood where the wiring is located. Then simply put the cover back on.
~ Lance
Using a GPS Speedo on a Sea-Doo with the X4 Hull
The following method assumes you have already removed your old gauge. As previously mentioned, this swap should work for any Sea-Doo with the X4 Hull. XP SP, SPX, or any other model where the hood uses 2 inch (52 mm) gauges. However, you will need to confirm that the factory gauge power wiring uses the same colors, as this changes throughout the models and years.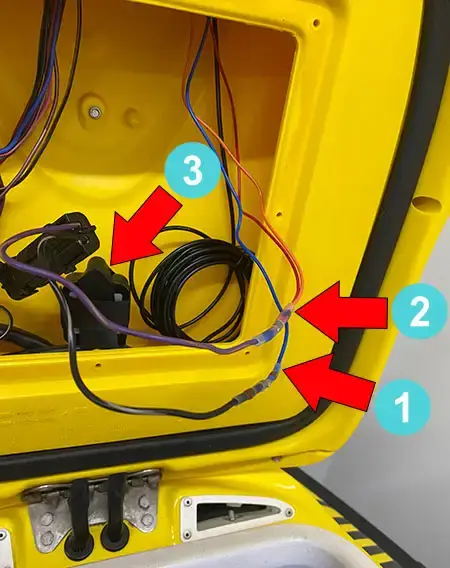 Wiring the Gauge and Speed Sensor
First, connect the Black (ground) wire from the factory Sea-Doo harness to the Blue (ground) wire of the gauge.
Next, connect the Purple (hot) wire from the factory harness to the Red (hot) and Orange (backlight + activate) wires of the gauge.
Finally, mount the GPS Sensor to the underside of the hood using double sided sticky tape.
Installing the Gauge into the factory hood
Install the new digital SeaDoo XP GPS Speedometer in place of the old gauge.
Then simply press the start button on your handle bar or insert your key to ensure it lights up and works.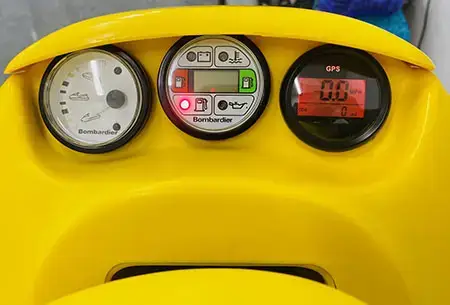 Shown above is the final result with the key on and new gauge powered up.
Note: The first time the unit is powered up it will begin to locate and store all of the satellites it finds. So that the next time the gps speedometer gauge is powered on it should be ready to use as some satellites have will already been stored for use on subsequent reboots.
I think the results speak for themselves. After initially finding and storing satellites, and within seconds of being powered up, the digital speedometer provides an accurate speed reading. No more Dream O Meter.
* This site is an Amazon Affiliate and earns a small commission from any purchase made via the Amazon links.
I also fully restored the trailer for this ski sits on. Check out how I went about Replacing Trailer Bunk Carpet