A 2023 SeaDoo Spark X with a 170hp 1630cc ROTAX ACE engine? BRP is likely to do something special for the tenth anniversary of the Spark. And with that, rumors have begun to circulate surrounding the idea that there may be a larger displacement offering to support a higher horsepower output. Ultimately these circulating rumors have lead to a new "Spark X" possibility. A lightweight nimble watercraft that would be tailored more to speed demons and could potentially spinoff an entirely new racing division.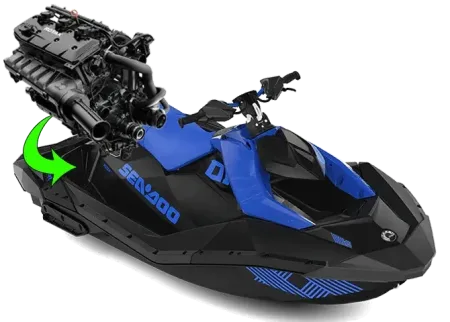 2023 SeaDoo Spark X 170hp 1630cc ACE does 63 mph
Kevin Shaw, the editor and chief of the Watercraft Journal recently spoke with Martin Lachance who is the Watercraft Product Development Director at BRP. While probing for more information regarding a potential Spark revamp for 2023, he received confirmation that the mainstream 1630cc ACE engine which is currently offered in several other platforms such as the Sea-Doo Gti and Switch has been swapped into the Spark hull for testing. He was told that while testing out the 170hp variant, it was possible to reach top speeds in excess of 63mph. He was also told that if this powerplant does find its way into the production model, it will most likely be detuned to keep the consumer and BRP in the safe zone as far as liability. However since we know that this powerplant is more than capable, there would be the potential for upgrades. Consumers might simply look to the aftermarket and reflash to a higher HP rating… seeking upgrade solutions that would be provided outside of the base level factory offering.
This is exciting news as even a lower 100-130hp output would still put the Sea-Doo Spark on par as far as performance with some of our old favorites such as the GSX-Limited or X4 hull designs like the XP, and SPX models. Perhaps conversion kits might even become available for those who have an earlier model year Spark or Trixx?
Either way, Sea-Doo models are generally revealed during the second half of the previous model year. So for the 2023 Spark model year we can expect to see the official BRP product reveal sometime mid 2022. Stay tuned!