You can easily get a FORD Window Sticker from a VIN number. Do you want to obtain the original Window Sticker for a FORD? Have you lost your original Window Sticker? Are you looking to buy a used vehicle and want to see all of the options it came with, or just want to see the original MSRP?

FORD Motor Company has made it possible to reproduce, download, and print the original sticker from the (VIN) Vehicle Identification Number. As shown below, anyone can generate a FORD Replacement Window Sticker for free.
How do I get a FORD Window Sticker by VIN?
I've created a simple search query you can use to easily submit a FORD VIN and retrieve the factory original monroney sticker from FORD Motors. The FORD Window Sticker generator should work for all models. For example, you could use it to look up and get the FORD window stickers for any of the following models manufactured within the last decade or so;
Ford Bronco, Ecosport, Edge, Escape, Expedition, Explorer, Mustang, and Trucks (F150, F250, F350).
FORD VIN Window Sticker Lookup Tool
Using the FORD Window Sticker Look up Tool;
Copy and paste your VIN number into the search box.
Then press the "Get FORD Window Sticker" button.
As seen below, you'll be sent to a page where you can view the original FORD Window Sticker produced from the decoded VIN number you entered. Note that you are also able to print a FORD Window Sticker or download it as a PDF file, from the same page.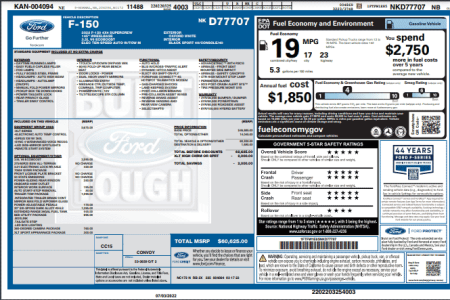 Hopefully you found this original FORD Window Sticker Lookup Tool handy! If so, please feel free to share this page with others.
Note: Here is another free original window sticker by VIN decoder that can be used to get a get a JEEP Window Sticker by VIN.