How to Get JEEP Window Sticker or Build Sheet by VIN number; Did you lose your original Window Sticker? Are you looking to buy a used JEEP and want to see all of the options it came with from the factory? Or maybe you are looking for the original MSRP (Manufacturers Suggested Retail Price), so that you can make an informed offer?

Fortunately, FCA has made it possible to reproduce the Original Window sticker or get the Factory Build Sheet by simply providing the (VIN) Vehicle Identification Number.
How do I get my JEEP Window Sticker by VIN?
Here is a simple search query I created to easily get a Jeep window sticker. It works by using a Jeep VIN to lookup the Factory Original Window Sticker from the (FCA) Fiat Chrysler Automobiles database.
JEEP VIN to Window Sticker Decoder
To use this tool to perform a Jeep Window Sticker lookup, simply perform the following steps;
Copy and paste a JEEP VIN number into the search box.
Click the "Get JEEP Window Sticker" button.
If all went well, you should end up on a page with a JEEP Window Sticker produced from the decoded VIN number you entered above. See the example below. You can then proceed to print your Original JEEP Factory Window Sticker or download it as a PDF file to your computer, from the same page.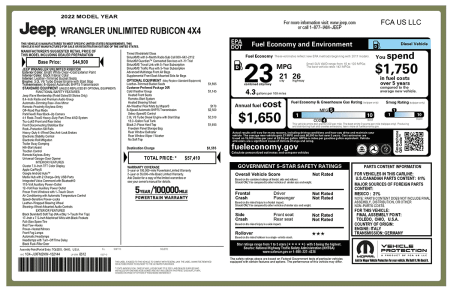 How do I Get a Jeep Build Sheet?
Here's how you can get a factory build sheet for a JEEP; Basically using the same lookup process as before but this time querying the BuildSheetServlet.
Insert the (VIN) Vehicle Identification Number.
Press Enter or Get a Build Sheet button.
JEEP VIN to Build Sheet Decoder
You should end up with the original "Factory Build Sheet for your JEEP". It will list all of the options that were installed from the factory when it was built. The features inclusive to a build are typically broken down into two sections; standard equipment, and optional equipment and will normally be several pages long. A 2022 Jeep Wrangler Unlimited Rubicon build sheet is shown below.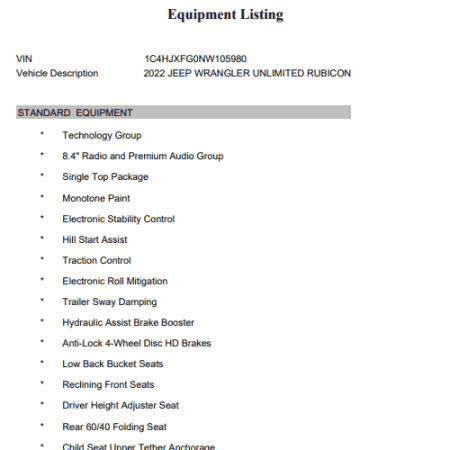 If you find these Jeep VIN decoders useful, Please let others know about this page by sharing it with them.
Note: I also have a RAM Window Sticker Lookup VIN decoder available that allows you to get a RAM Factory Window Sticker by VIN.