How to turn Num Lock on or off on a Laptop: Many Laptops, notebooks, and keyboards do not feature a NumLock key or even a Numpad. In the following simple solution, I'll show you one very easy way to turn Num Lock On or Off, on the fly.

By using my "NumLocker Enabler" on computers without a Num Lock Keyboard.
NumLocker Enabler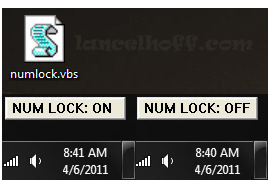 How to enable or disable Num Lock on a Laptop
I've created a simple numlock.vbs script for use on computers with a keyboard that does not have a physical Number Lock key. Such as laptops or notebooks which do not have a Numpad. You're free to use the tool to (turn on) enable or (turn off) disable Num Lock on your PC.
To begin using NumLocker at a PC without a Num Lock Keyboard:
Download NumLocker Enabler

which is a vbs script.

Then, to turn Num Lock On:
Simply double click the numlock.vbs

script

Or to turn Num Lock Off:
Double click the script again
That's all there is to it, Enjoy!