Windows Live Mail has stopped working: Recently I was experiencing a sporadic problem when opening Windows Live Mail on my Windows Laptop. After a couple of attempts, Windows Live Mail would work again. It appears many have been experiencing this Windows Live Mail crashing problem. In the following simple solution, I show you what worked for me to resolve the problem.
Error: Windows Live Mail has stopped working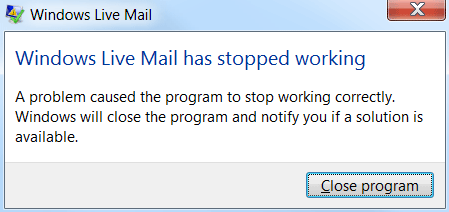 How I fixed the Windows Live Mail stopped working error
There are several solutions you can try if Windows Live Mail has stopped working. Here is how I resolved the problem;
Navigate to C:\Program Files (x86)\Windows Live\Installer
Double click wlarp.exe

Select the Repair Option and then click Continue

Once the Repair Process has finished, restart your computer
Try using your Windows Live Mail again...
If all goes well, your Windows Live Mail Stopped Working Errors should be history!
Additional Options: If the above solution did not resolve the issue, you can try the following solutions.
Repair Windows Live Mail
First, press Win + R  keys, type control and then press OK to open the Control Panel.
Next navigate to Programs > Programs and Features.
Find Windows Live Essentials right click, and choose to Repair.
Then follow any onscreen prompts to finish the repair.
Reinstall Windows Live Mail
Uninstall and then reinstall Windows Live Mail;
Use add Remove Programs to uninstall Windows Live Mail
Then attempt to reinstall it from Microsoft.