My "Bontrager H2 700X28C Tire Review": After putting several hundred miles on my Trek Ion CX (riding on paved and crushed limestone trails), I decided it was time to switch out the stock CX0 700x38C Cyclocross tires for something more suitable for pavement and packed limestone. I have had good luck with Bontrager tires, and decided to give the Bontrager H2 Eco Deluxe 700x28C tire a try. I wanted to stick with something relatively narrow, but didn't want to completely sacrifice the nice soft ride Cross tires provide.
Bontrager H2 DLX Eco 700x28c Tire Mounted on a Trek Ion CX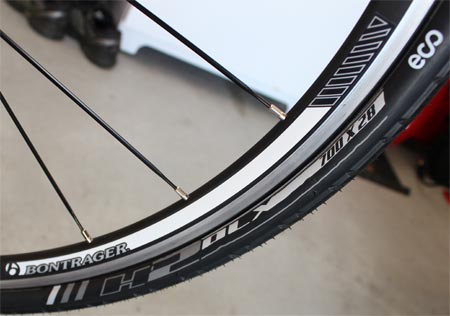 I settled on the "H2 700x28c Deluxe tire" part #411456, as it utilizes an Aramid Bead, a 60 TPI casing, and weighs in at only 331g. The H2 utilizes a natural rubber based Outlast tire tread made from 15% recycled rubber. According to Bontrager, the tread is claimed to last up to 50% longer than standard tread.
Even though the DLX version does not offer Bontrager's signature Hard Case puncture protection. The Bontrager H2 tread feels extremely thick, and should ward off small rock shards and thorns much better than the CX0 tire. Although probably not essential on a bicycle tire, the unique tread pattern is also said to assist in shedding water.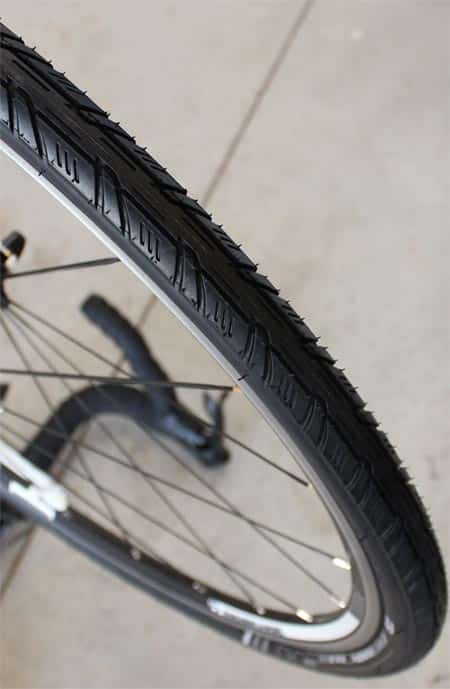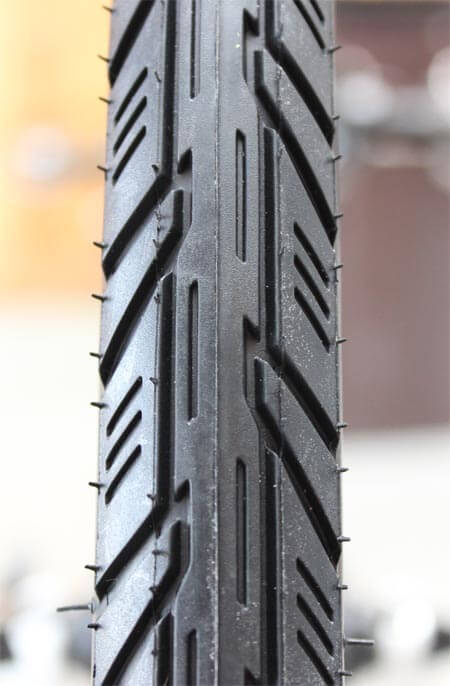 Bontrager H2 700C Road Feel and Durability
After mounting the Bontrager H2 tires on my factory rims, I aired up the tires to roughly 75 psi. Then headed out for my daily ride. The first thing I noticed was that the bike felt more like a road bike/hybrid. The ride was slightly firmer than with the factory CX0 tires, but still soft. The tires rolled effortlessly, almost as smooth and quick as a set of Bontrager T2 tires I have also ridden on this bike. Though I keep the T2's aired to a much higher 120 psi, and they're not nearly as soft over bumps. Taking corners on pavement was a breeze with the H2 as well. Unlike the CX0, which felt uncomfortable and would make a lot of noise around fast corners.
As far as any speed difference between the H2 and Cx0 is concerned, I averaged .2 mph quicker over the same course on two consecutive rides. Though environmental variables might have slightly skewed these results.
Bontrager H2 700C Final Conclusion
One improvement I could suggest to Bontrager, would be to make these in a 120 TPI casing. I feel this would allow for a softer ride, and better pavement rolling characteristics. Rivaling that of the T2 at a higher pressure.
Pro's - Quick, smooth, soft riding, excellent tread pattern and thickness, Eco friendly. Available with HardCase protection which works well to ward off thorn punctures.
Con's - Not quite as smooth and quick as the Bontrager T2 tire. Would be nice to see a 120 TPI casing option.
Overall, I feel this is a great tire for someone looking to swap out their Cyclocross tire for a tire better suited training or recreational tire for use on pavement and or crushed packed limestone.
Update: 9/24/12, The hard case version of this tire works well against warding off THORN punctures. During a recent limestone trail ride with a good friend, I encountered multiple flats with non-hardcase tires. While my friend had the hard case version and didn't encounter a single flat. Same path, same day, same thorn encounters. We both pulled several thorns from our tires. However, the hard case protected version prevented those thorns from ever penetrating the tube.