My Garmin Fenix 3 HR Review;  In my quest for the perfect fitness watch, I stumbled upon the Garmin Fenix 3 Sapphire Edition. This model comes with a built in heart rate sensor and also ships bundled with a heart rate strap.
It was necessary to do a lot of research before proceeding to purchase. Comparing features between brands, prices, durability, etc.
Garmin Fenix 3 HR Sapphire Edition - Initial Impressions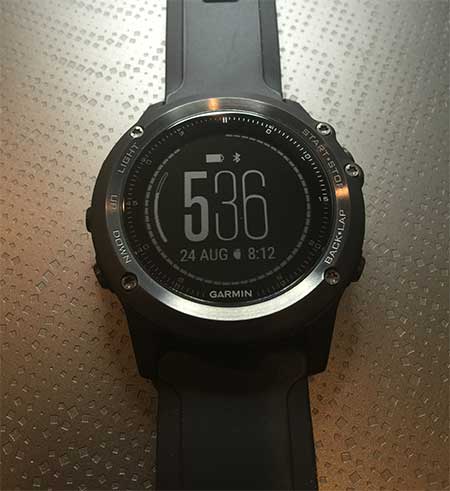 I'll start by pointing out that this Fitness watch is absolutely beautiful. With its dark anodized brushed finish, overall clean design, and well organized button layout. The Garmin Fenix 3 HR looks and feels like a high quality digital watch.
The Fenix 3 definitely stands out on any wrist. Though large and tough to get used to wearing at first. I Initially found myself brushing the watch up against things like door trim due to its pure size. That might sound strange, but this watch is much larger than a typical wrist watch. After a few days, my mind learned to accommodate the size difference and bumping into things with it was no longer a problem.
Garmin Fenix 3 HR - The Heart Rate Monitor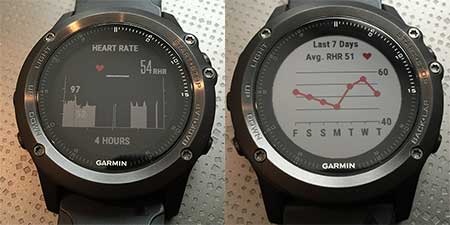 As mentioned earlier, the Garmin Fenix 3 HR Sapphire Edition comes bundled with an external heart rate strap. HR denotes Garmin's built in Elevate™ wrist heart rate technology consisting of a heart rate sensor built into the watch which measures heart rate at your wrist. In testing, heart rate measurements at the wrist appeared fairly accurate while sedentary or while minimally active. However, I found that measuring heart rate at the wrist wasn't accurate during intense exercise. During intense exercises, I found wrist readings to be off by as much as 60bpm, and slow to update. Therefore, I eventually reverted to using the included heart strap only while exercising for more accurate readings.
Garmin Fenix 3 HR Sapphire Edition - Features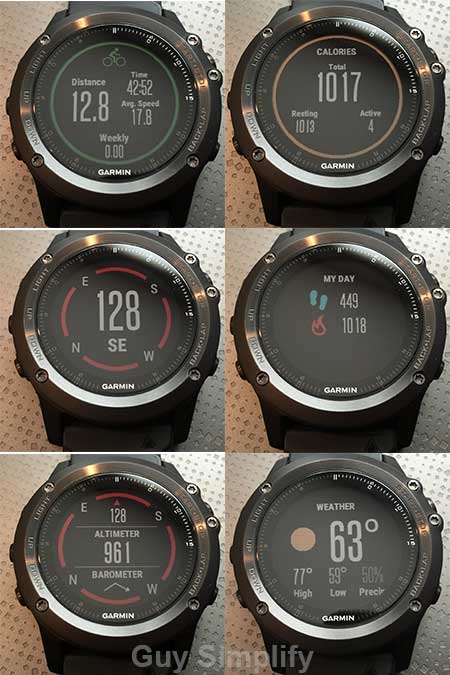 Fenix Watch basics
The Fenix 3 HR is packed with plenty of features. Standard watch features include the essential time, date, and time to sunset/sunrise. Built in sensors include GPS/GLONASS, altimeter, barometer, thermometer, Bluetooth, ANT+, Wi-Fi, and compass. The main display layout can also be adjusted. Along with the ability to move, add or delete pages. Pages are easily toggled via the up or down buttons. Watch faces and data fields can be customized. Moreover, there are tons of free apps available through Connect IQ.
Advanced Fenix features
Like many other smart fitness watches the Fenix features a built in step monitor to keep track of steps taken throughout the day. A simple calorie monitor to help monitor what your body is burning throughout the day.  A sleep monitor to help monitor sleep patterns, and resting heart rate. A nifty navigation with TracBack feature with markers which can be used to take you back to your starting point via the route you took. Weather monitor and alerts (requires paired smartphone connection). VO2 max estimator. Smartphone email, text, and call notifications are displayed on the watch. Advanced Running Dynamics and Physiological Metrics that help monitor nearly every aspect of your performance.
The Fenix 3 HR watch can be used for walking, running, swimming, paddle sports, skiing, golfing, cycling, weight training and more.
Perhaps one the the coolest features is the ability to upload and study the data stored on the smart fitness watch via Garmin Express.
Garmin Fenix 3 HR Sapphire Edition Conclusion
I've been using this smart watch for over eight years now and still absolutely love it. In fact, it's hard to believe that even the battery is still holding a strong charge.
This watch makes a great companion to my phone for receiving notifications and viewing critical data at my wrist. As a result, I find myself using the Garmin Fenix 3 HR in place of my Garmin Edge 800 for cycling. Overall, its feature support is awesome and all I need in a fitness watch. Moreover, Garmin Connect does a great job in organizing my fitness data, making it easy to quickly glance at my progress or lack thereof helping keep me on track and accountable to my fitness goals.