My Profile Design T2+ Aerobar Review. I recently purchased a set of Aerobars for my Trek Madone 5.2 Bicycle. I love the Aerodynamic look and stance of "TT" Time Trial Bikes, and would love to own one. But wasn't sure if I could handle the Aero position. Hence, decided to purchase a set of decent Aerobars to find out first, before splurging on a complete TT bicycle.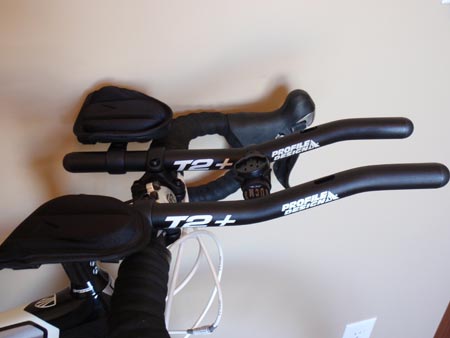 Profile Design T2+ Aerobar Review & Overview
My initial investment for the Aluminum Profile Design T2+ Aerobars set me back $129. However, I also invested in a universal computer mount, so that I could mount my Garmin Edge 800 between the T2+ Aerobars (which works awesome by the way). Mounting the Aerobars was so straightforward and simple, that no instructions are needed. The bars can be adjusted forward and back, tilted up and down, and mounted narrow or further apart. Additional spacers are also included for the armrest elbow pads, but I didn't use them.
After a short stationary test, I set out to take the Madone for a test loop to fit the Profile Design Aero Bars. Other than the bars being slightly too close together for me, the fit was about right out of the box. The arm pad position and distance to the bar ends was spot on.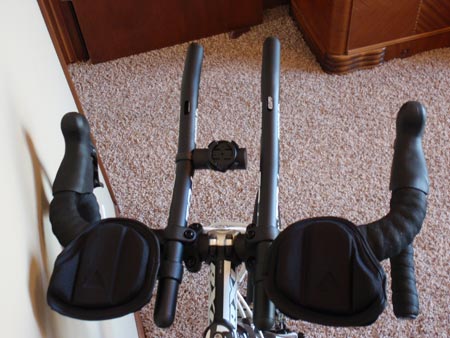 It was a mildly windy day, with winds in the 20+ mph range. Fortunately, the T2+ Aerobars provided a nice tucked position for me to ride in. I could feel a significant drop in aerodynamic drag, when tucked into position. My Garmin 800 was also agreeing with this. The additional hand position that the Profile Design T2+ Aerobars provide over drop bars alone, should also prove helpful for long distance events.
Overall, I am very satisfied with Profile Design's T2+ Aerobar setup, and feel it was well worth the investment. I'd highly recommend these bars. Especially if you are considering getting into a Time Trial Bike, but want to make sure an Aero Bike is the right move for you, before proceeding to buy one.