My Profile Design aero bars Review. I recently purchased a set of aero bars for my Trek Madone 5.2 Bicycle. I love the aerodynamic look and stance of "TT" Time Trial Bikes, and would love to own one. But wasn't sure if I could handle the aero position. Hence, decided to purchase a decent set of aerobars to find out first, before splurging on a complete TT bicycle.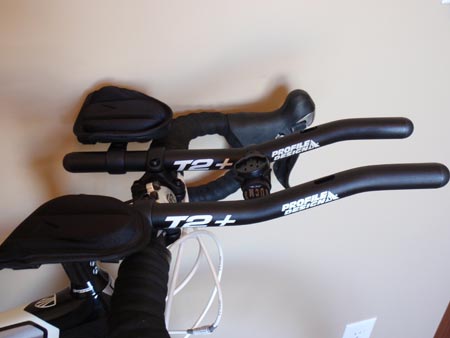 Profile Design Aero Bars Overview
Profile Design is a popular brand known for producing high quality aero bars or aerobars for cyclists and triathletes. The best features of Profile Design aero bars can vary depending on the specific model and your individual preferences, but here are ten things that riders might find appealing:
Aerodynamic Design: These aero bars are designed to reduce aerodynamic drag, allowing cyclists to ride faster with less effort. They often feature sleek shapes and profiles that help streamline airflow around the rider's body.
Range of Adjustability: They offer a wide range of adjustability to accommodate different riding positions and body types. This includes adjustable armrests, extension length, and angle adjustments to fine tune your fit and comfort.
Comfortable Bars: Comfort is crucial for long rides and races. Profile Design's aerobars come with padded armrests and ergonomically shaped hand grips to minimize discomfort and fatigue during extended periods in the aero position.
Excellent Build Quality: They are made of high quality materials like carbon fiber or aluminum construction. These materials provide a balance of strength, stiffness, and light weight.
Offers Accessory Integration: Designed to integrate seamlessly with other accessories, such as hydration systems, electronic shifting components, and computer mounts. This can help streamline your setup and improve your overall riding experience.
Easy to Install Aero Bars: Profile Design aero bars are often praised for their ease of installation and adjustability, making it relatively simple for riders to set up and fine-tune their positions.
Multiple Bike Compatibility: You can choose from a range of aero bars designed to fit different types of bikes, including road bikes, triathlon bikes, and time trial (TT) bikes. This compatibility ensures that you can find a suitable option for your specific bike frame.
Ride Position Versatility: Aero bars add riding position versatility over standard drop bars, allowing you to switch between different hand positions and riding styles. This can be particularly useful for triathletes who need to transition between aero and upright positions during races.
Great Brand Reputation: Profile Design has a strong reputation in the cycling and triathlon communities for producing reliable and high-performance aero bars.
Flexible Price Range: A wide range of aero bars are available at different price points, making it possible for riders with varying budgets to find a suitable option.
My thoughts on Profile Design Aero Bars
My initial investment for the Aluminum Profile Design Aerobars set me back around one hundred fifty dollars. However, I also invested in a universal computer mount, so that I could mount my Garmin Edge between the Aerobars (which works awesome by the way). Mounting the Aerobars was so straightforward and simple that no instructions are needed. The bars can be adjusted forward and back, tilted up and down, and mounted narrow or further apart. Additional spacers are also included for the armrest elbow pads, but I didn't use them.
After a short stationary test, I set out to take the Madone for a test loop to fit the Aero Bars. Other than being slightly too close together for me, the fitment seemed about right out of the box. The arm pad position and distance to the bar ends was spot on.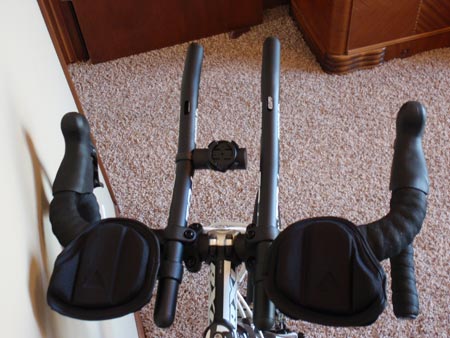 It was a mildly windy day, with winds in the 20+ mph range. Fortunately, these aero bars provided a nice tucked position for me to ride in. I could feel a significant drop in aerodynamic drag, when tucked into position. My Garmin was also agreeing with this. The additional hand position that the Profile Design Aerobars provide over drop bars alone should also prove helpful for long distance events.
Overall, I am very satisfied with the setup, and feel this was well worth the investment. I'd highly recommend these bars and feel they are a great choice. Especially if you are considering getting into a Time Trial Bike, but want to make sure an Aero Bike is the right move for you, before proceeding to buy one.