My Review of the Specialized Romin Saddle. In my quest to find the perfect road saddle for my Trek Madone 5.2, I came across the Specialized Romin Comp Gel Seat, a Body Geometry Saddle. The stock saddle that came with my Madone wasn't bad. However, I was beginning to experience some mild numbness while in the saddle on longer rides. So I set out to find a saddle that was open throughout the center section of the bicycle seat. As it turns out this seat is also lighter than the original. Bonus Points!
The Specialized Romin Saddle


In my opinion, the Specialized Body Geometry Romin Comp Gel Saddle looks awesome. In addition, if not satisfied, the local bike shop offered me a no questions asked return policy. So I had nothing to lose. With a return policy like that, who wouldn't want to give it a try?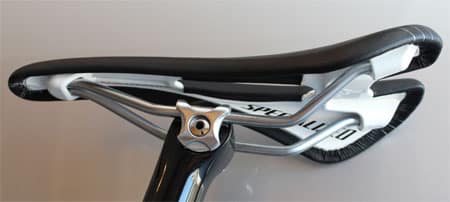 The Romin Bike Seat features Gel/Foam padding, light and hollow Chrome Moly rails. More important, it boasts a generously cut out center section that flows almost the entire length of the seat.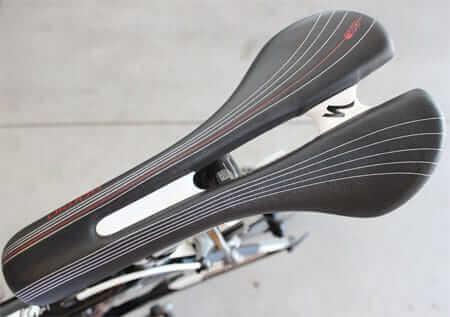 There were several seat size options available. I chose the 143mm size, weighing in at 239g. Fitting this particular saddle, I needed to move my setback slightly forward. With the new Romin seat adjusted, I headed out for a long ride. The first impression was a noticeable firmness to the Romin Seat that didn't exist with the stocker, but the firm feel didn't seem to create any ride harshness on my Madone. The numbness (perineal pressure) that I used to get with the stock seat was almost entirely gone. At this point, I could still feel some numbness if I spent a long ride entirely in the aero position. However, after making a few adjustments and lowering the front of the saddle slightly, I no longer experienced numbness.
It took some fitting and a few miles to get used to, but now after putting thousands of miles on this saddle, I can say I would make the same upgrade all over again. In closing, I really enjoy and highly recommend the Specialized Romin Seat for anyone who is trying to overcome perineal pressure numbness.
If you enjoyed this review, you might also want to read my review of the Specialized Phenom Seat