In the following simple solution, I show you how to fix the Unrecognized Partition Table for Drive 80 boot error that may occur while attempting to boot Windows from your MacBook Pro. The error may read or appear as follows: "Unrecognized Partition Table for Drive 80. Please rebuild it using a Microsoft-compatible FDISK tool. Can't boot from NTLDR from drive 0x80. NTLDR is missing.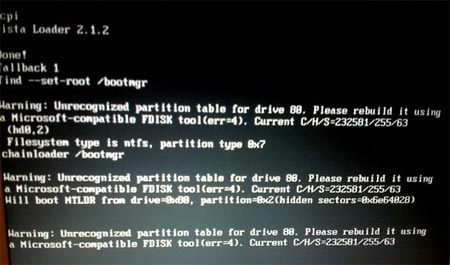 How to Fix Unrecognized Partition Table for Drive 80
Insert your Windows Installation disk and then reboot your MacBook. Hold down the option key until you reach the boot menu. Select to boot from the CD
Press a key when prompted to continue
Choose your language, time, keyboard and click Next:

Next, click Repair your Computer:

Now, from the System Recovery Options dialog, select the Operating System you want to repair, then click Next:

From the Choose a Recovery Tool dialog menu, click Command Prompt:

Type the following into the Command Prompt Window:

bootrec.exe /fixmbr

bootrec.exe /fixboot

Remove the Installation DVD and restart your PC.
If all goes well, the Windows NTLDR boot errors on your MacBook should be history!