How to bulk resize images or pictures for email from Windows. Most email providers restrict the amount of data a sender can send per message, making it essential to reduce the file size of images so that you can send them via email. There are several tools you can use to resize large pictures and images stored on your computer before sending them via email. The Free tool I recommend is Image Resizer for Windows.
Using Image Resizer for Windows
Download and install Image Resizer for Windows.
From Windows, navigate to the folder where your images are stored.
Bulk select the pictures you want to resize (Ctrl + Left Mouse Click).

Hovering over a highlighted image, Right Mouse Click and select Resize pictures.

From the Image Resizer, select a dimensional size in pixels to resize to and click Resize.

Use Advanced options to set additional sizes, filenames, and increase compression via the encoding tab to further reduce the physical file size of the pictures or images.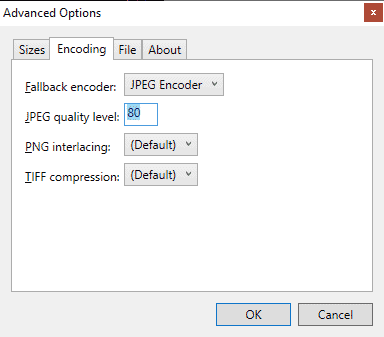 Hopefully this has helped get your original pictures bulk resized by both dimensionally and physically reducing the file size.