In the following simple solution, I'll show you how to fix the Windows Update Error 0X80070005 that is ever so often encountered after a Malware attack. The automated fix was created by Rizone Technologies and has worked wonderfully on the select few troubled computers I have had the opportunity to test it on.
Warning: This software is provided 'as-is', without any express or implied warranties whatsoever. In no event will the authors, partners or contributors be held liable for any damages, claims or other liabilities direct or indirect, arising from the use of this software.
0X80070005 Fix Description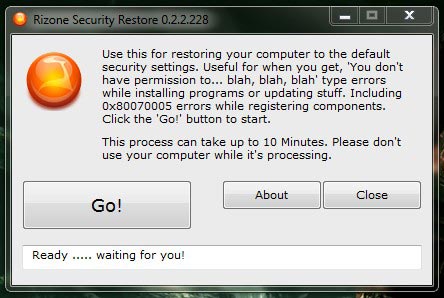 Authors Website: http://www.rizonetech.com
"0X80070005 FIX, (now SecRes.exe), will simply attempt to repair the dreaded 0X80070005 error messages when trying to register dll files while installing certain Windows components or programs. Sometimes you will not get this specific error number, but just an Installation Failed message. This tool will in most cases also repair these errors, for example:  Internet Explorer 7 installation failure.  It will accomplish repairing these errors by restoring your computer to the original installation default security settings."
How to fix the Windows Update 0x80070005 Error
Download secrestore.zip and extract the contents to your PC
Click SecRes.exe and follow the onscreen instructions
Note: If you do not have any 0X80070005 errors or Installation problems, do not run this tool, it will be unnecessary.