Is the 9800M GTX worth the price difference? A lot of midrange and entertainment laptops are now shipping with either the nVidia 9800M GT or the 9800M GTX video cards. I've recently had a few friends ask if the 9800M GTX is worth the upgrade or price difference. With a little bit of research and the help of a benchmark test from notebookcheck.net, I would have to say that the performance difference would not validate the price difference.
9800M GT vs 9800M GTX Benchmark test: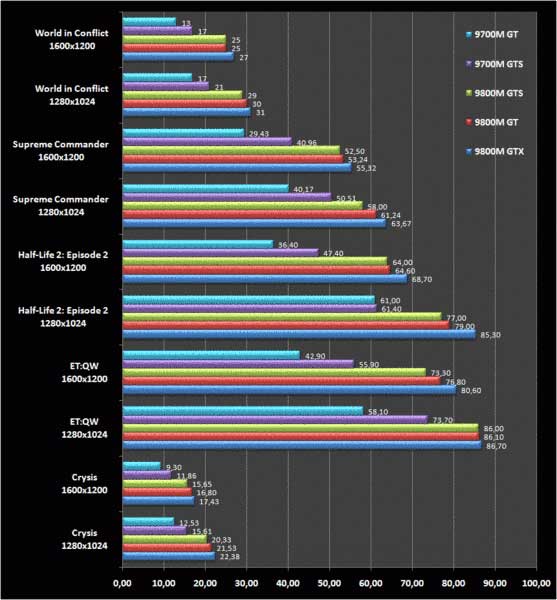 As you can see the 9800M GTX provides only a mediocre few FPS over the 9800M GT on common games. In most cases, an increase that wouldn't be validated by the cost difference (price vs performance). The average computer gamer most likely wouldn't be able to feel or see this difference while playing a game.
9800M GTX specifications:
| | |
| --- | --- |
| Manufacturer | NVIDIA |
| Series | GeForce 9000M |
| Codename | NB9E-GTX |
| Pipelines | 112 - unified |
| Core Speed * | 500 MHz |
| Shader Speed * | 1250 MHz |
| Memory Speed * | 800 MHz |
| Memory Bus Width | 256 Bit |
| Memory Type | GDDR3 |
| Max. Amount of Memory | 1024 MB |
| Shared Memory | no |
| DirectX | DirectX 10, Shader 4.0 |
| Current Consumption | 75 Watt |
| Transistors | 754 Million |
| Features | HybridPower, PureVideo HD, CUDA, PhysX ready |
9800M GT Specifications:
| | |
| --- | --- |
| Manufacturer | NVIDIA |
| Series | GeForce 9000M |
| Codename | NB9E-GT2 |
| Pipelines | 96 - unified |
| Core Speed * | 500 MHz |
| Shader Speed * | 1250 MHz |
| Memory Speed * | 800 MHz |
| Memory Bus Width | 256 Bit |
| Memory Type | GDDR3 |
| Max. Amount of Memory | 512 MB |
| Shared Memory | no |
| DirectX | DirectX 10, Shader 4.0 |
| Current Consumption | 65 Watt |
| Transistors | 754 Million |
| Features | PureVideo HD, CUDA, PhysX-ready, Hybrid-SLI (HybridPower) |